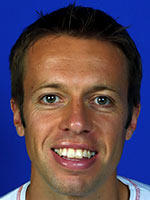 Not Hantuchova
Пора сказать пару слов о партнере Лины, с к оторым ей ПОВЕЗЛО.
Daniel Nestor (CAN) Birthdate: 9/4/1972
Birthplace: Belgrade, Yugoslavia Residence: Willowdale, Canada
Height: 6-3-- (190 cm) Weight: 180 lbs (81 kg) Plays: Left-handed Turned Pro: 1991
Олимпийский чемпион Сиднея и 31 титул в парах. ( сейчас 5-ый в мужском парном рейтинге, их пара 2-ая)
Поскольку Кафельников микст не играет, лучшего партнера придумать сложно.
Вышел в 1/2 US-2003 в двух разрядах.

Lina Krasnoroutskaya (RUS)[ Daniel Nestor (CAN)[5] vs. Cara Black (ZIM)]Wayne Black (ZIM)[7]
Janette Husarova (SVK) Leos Friedl (CZE)[6] vs. Katarina Srebotnik (SLO)Bob Bryan (USA)[8]
Quarterfinals
(3)Knowles/Nestor d (5) Arthurs/Hanley 64 75

Chris Gerby Around The Grounds at the 2003 US Open
http://www.tennis-ontheline.com/
5) Krasnoroutskaya/Nestor vs. Hantuchova/Ullyett
Mixed Doubles: First Round
Court 13
It's been a season to forget for Daniela Hantuchova, who just one year ago looked like a self-assured, preternaturally gifted lock for the Top 5. On-court crying jags, whispers about an alleged eating disorder, and a string of inexplicably bad losses haven't kept the leggy Slovakian off a series of American Express billboards around New York City, however. And if she was going to make a run deep into this US Open, it would most likely come in mixed doubles, where she already owns two Grand Slam titles, one with current partner Kevin Ullyett. First things first: a meeting with the 5th-seeded pairing of Daniel Nestor and Lina Krasnoroutskaya.
Hantuchova held at love for a 2-1 lead in the opening set, then nailed a winning forehand return to break Krasnoroutskaya for 3-1. Ullyett managed to drop serve in the following game, though, and Nestor served big to even matters at 3-3. Easy holds by the women advanced the score to 4-4. Ullyett got in trouble on his serve again, being pushed to seven deuces in Game 9. It finally ended when a sizzling Nestor return forced an Ullyett volley error. The Canadian southpaw then served it out at love.
Hantuchova no longer appears as dangerously skinny as she was at Wimbledon -- in fact, she looked quite snappy in her light blue Nike dress. But she still isn't playing with much joy, even in the traditionally light-hearted venue of mixed doubles. The second set rolled along with a string of fairly easy and uneventful service holds, leaving Krasnoroutskaya/Nestor with a 6-4, 4-5 lead.
Ullyett wasn't having a great day, but a spectacular stab volley winner off his racket gave his team a set point in Game 10. Nestor put in a good first serve to fight it off, but Ullyett struck back in the next point with a winning lob. On set point # 2, it was Krasnoroutskaya saving the day, striking a volley Ullyett couldn't handle. Two points later, Krasnoroutskaya got her team to 5-5 by hitting a smash at Ullyett's feet.
At 15-30 in the next game, Hantuchova netted a low volley to bring up double break point. Nestor took the initiative, smartly poaching and knifing a backhand volley for 6-5. Ullyett struck a winning return in Game 12, but the end was near. Hantuchova sent a forehand return wide on match point as the Russian-Canadian combo charged into the second round by a count of 6-4, 7-5.

Thanks Chris for report & photos
//linastar.boxmail.biz/cgi-bin/guide.pl?action=article&id_razdel=28953&id_article=40035