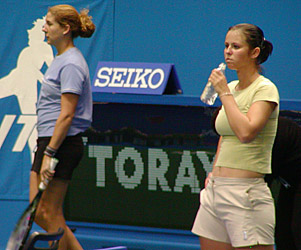 On Tuesday afternoon, before a large crowd on Court 11, the top-seeded doubles team of Virginia Ruano-Pascual and Paola Suarez advanced to the quarterfinals with a 7-6 (4), 6-2, victory over Elena Dementieva and Lina Krasnoroutskya of Russia.
Ruano-Pascual and Suarez have been one of the most consistent doubles teams on the WTA Tour, having reached the finals of the last six consecutive Grand Slam tournaments.
They have won a total of three Grand Slam doubles titles. (2001, 2002 French Open and 2002 US Open)
Лина Красноруцкая в 1 круге выиграла у японки Saori Obata (LL, WTA 85)6-4 6-3 и сыграет во 2-ом с итальянкой
Silvia Farina Elia
21-00 msk
Пока нет фото Лины из Сан Диего, можно вспомнить ее встречу с Моникой Селеш в Токио.
(10 фото с турнира Pan Pacific Open)
//linastar.boxmail.biz/cgi-bin/guide.pl?action=article&id_razdel=24228&id_article=32231